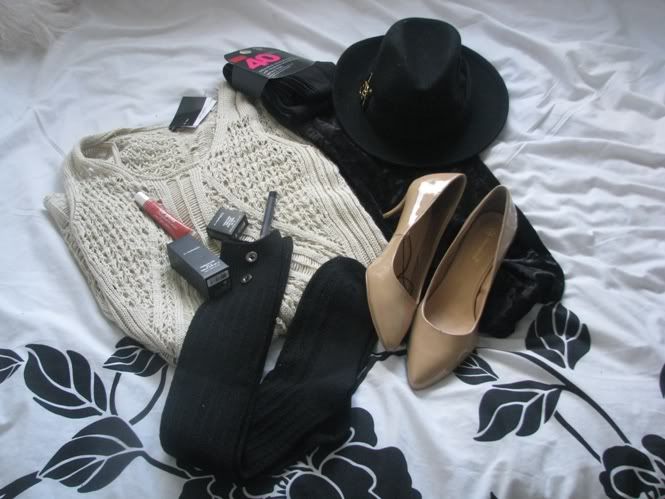 Knitted dress - Primark £5 / Velvet leggings - Primark £3 / Nude kitten heels - Primark £4/ Over the knee sock - Primark £2.50 / Tights - Primark £2.50 / Orange lip gloss - Primark 50p / Purple eyepencil - Primark £2.00 / Black wool fedora - River Island £4.99 / Studio fix fluid NW45/Studio fix concealerNW40 - Mac
Yesterday my boyfriend and I went to oxford, unfortunately I forgot my SD card in my laptop (smarty pants), so I couldnt take any pictures; but I'be had such a nice day, infact I've had such a nice weekend.
Dont look at me like that! Nude...Patent...Kitten heels, I don't know what wrong with me but i love them, they look so ugly they're brilliant and as I told my boyfriend I
will
wear them anywhere and everywhere!
Truth be told i didnt actually pay for the leggings and dress, not because I'm a tea - leaf, but because the cashier didn't them, I did think it was cheap, but didn't actually check the receipt till I had left the store, oh well. And the hat was so cheap because they mistakenly put at £15 off sticker on it when it was only meant to be £10 off, but I'm not complaining...
My boyfriend was nice enough to buy to the foundation and concealer for me...too nice; I start my induction at Next in 2 hours and I haven't even
showered
yet.